Bad Hall - Kremsmünster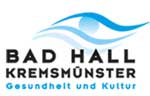 380 meters
Vacation in Bad Hall - Kremsmünster
Bad Hall - Kremsmünster is a lovely region.
Bad Hall - Kremsmünster is a lovely region where you can fully unwind.
The landscape is gentle, and unique, and in the region are many leisure activities offered.
Moreover, there are many sights and attractions, so that this holiday will be one you'll never forget.
Mountain Sports
Around the villages you can enjoy endless hiking trails, and very scenic routes for cyclists and mountain bikers, and there are also opportunities offered for other outdoor sports.
Water Sports
The region has some nice outdoor pools, Erlebnisfreibad Kremsmuenster and the swimming pool Pfarrkirchen bei Bad Hall, and fishing is possible in Schacherbauer`s Fischer Paradies.
Schloss Mühlgrub.
Schloss Mühlgrub was in former times less large, and belonged to the monastery.
Around the year 1600 the present castle was built, and tours are available on certain days.
Winter sports Upper Austria
Tourist information office
Kurpromenade 1 4540 Bad Hall
Telephone: +43 (0)7258 72000
Email: geisberger@badhall.at
Internet: http://www.badhall.at
style="display:block"
data-ad-format="autorelaxed"
data-ad-client="ca-pub-2812489612520478"
data-ad-slot="9466819972">