Kaiserwinkl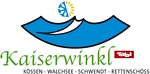 591 meters
Vacation in the Ferienregion Kaiserwinkl
The Ferienregion Kaiserwinkl offers much variety.
The best start of Tyrol. The Kaiserwinkl region offers much variety and is very easy to reach.
Optically, the Kaiserwinkl is at the place where for millions of tourists Tyrol begins.
Who drives over the motorway at the border near Kufstein, sees on the entrance of Austria the Zahmer Kaiser and the Wilder Kaiser in the rearview.
Those, wo whant to drive toll free into Tyrol, leave the Motorway on the German site of the border (at Oberaudorf) and drive into the most beautiful corner of Tyrol: The Kaiserwinkl.
The region has idyllic villages, such as the authentic Rettenschöss, where tourists like to come to enjoy the unique nature.
Mountain Sports
Paragliding is offered in Kössen.
Furthermore, the Kaiserwinkl region is a real mountaineering area, as evidenced by the many hiking and mountain bike trails.
Thus, the region has no less than 200 kilometer hiking trails, and a number of summer lifts set to carry the mountain bike.
Water Sports
Water sports in the region are of a high level.
The Walchsee offers various water sports such as surfing, rowing,
fishing and water skiing. Furthermore, in Kössen is a beautiful forrest swimmingpool.
See something special.
If you're on vacation in the Kaiserwinkl, then you do sometimes want to see something special.
The town Ebbs is just 10 minutes drive from Walchsee and only 15 minutes from Kössen.
It is worth the trip, because here is the foal farm Ebbs established, the largest Studfarm of Austria, and world famous.
Tourist information office
Postweg 6 6345 Kössen
Telephone: +43 (0)501100
Email: info@kaiserwinkl.com
Internet: http://www.kaiserwinkl.com