St. Johann in Tyrol / Oberndorf

670 - 1.700m
Ski Resort St. Johann in Tyrol / Oberndorf
St. Johann in Tyrol / Oberndorf has perfectly maintained slopes.
Ski resort St Johann in Tyrol is not just a beautiful ski resort with perfectly maintained slopes, and so a ski resort for perfect skiing.
Thanks to modern technology, the slopes are completely covered with artificial snow in just 60 hours.
Thus, on the north side of the Kitzbüheler Horn even when the weather is bad, it is guaranteed that you can enjoy the white gold.
The ski resort has some very nice and sunny slopes, where skiing is wonderful.
And, modern lifts will take you quickly to the slopes.
Under the motto "Less in the Lift - Longer Skiing" the ski resort offers modern lifts: 8 person gondola in Oberndorf, two 6 person cable cars and numerous drag lifts and chair lifts.
Thus, a rapid transport to the slopes is guaranteed, and you obviously have more time for fun while skiing.
Even snowboarders can enjoy their favorite sport in St. Johann in Tyrol / Oberndorf.
For freestyler the ski resort has a real QPark, and connoisseurs of the scene know what this means.
QPark is indeed a successful label for the freestyle concept in the Alps.
Lifts

Slopes

23,2 km
30,2 km
6,6 km
Total 60 km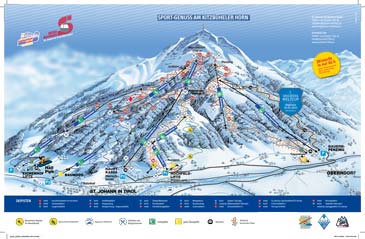 Summer Vacation St. Johann in Tirol

Contact
Hornweg 21 6380 St. Johann in Tirol / Oberndorf
Telephone: +43 (0)5352 62293
Snow Telephone: +43 (0)5352 62293
Email: info@bergbahnen-stjohann.at
Internet: http://www.bergbahnen-stjohann.at
Nearby ski resorts

Fieberbrunn

Going SkiWelt

Kitzbühel Kirchberg

Pillersee Bergbahnen