Rofan Seilbahn Maurach am Achensee


820 - 1.555m
Ski Resort Rofan Seilbahn Maurach am Achensee
Winter Paradise Rofan - skiing, have fun and feel comfortable!
For the winter season Ski Resort Rofan Seilbahn Maurach am Achensee is well prepared.
With the two double-seat chair lifts (Rofan and Mauritz), the children's skiland in the village and a fascinating flying machine on the mountain, promises the family-friendly Ski Resort this year even more winter fun.
Guests who are hungry for adventure, must not miss the flight with the stunning AIRROFAN. With more than 80 km per hour from the Gschöllkopf (2.040m) in a fast deep dive (200m height difference). Fly like an eagle, which is the motto of the AIRROFAN, which obviously meets all safety standards. Who prefers a viewing distance, takes plenty of opportunity in all surrounding ski cabins. Of the various terraces you can see the great spectacle.
Ski and snowboard enthusiasts can rejoice in this winter on an expansion of the snowinstallation.
Until early spring, beginners and advanced are in their element.
Who wants to be even better, and simultaneously have fun, is at the local ski school at the right place.
From beginner to advanced, regardless of age, you will find a suitable offer.
Would you like to go on a ski tour? From the top station of the Rofanbahn there are several lovely routes.
We love to welcome you and your family in the winter paradise Rofan!
Arrival and infrastructure
You can reach the Rofan from the south through the Inntal Valley motorway and from the north through the Achen Pass.
The valley station of the Rofanbahn lies directly on the Achenseestraße in the village of Maurach. There are enough parking spaces.
In just 5 minutes you go from 980 meters to 1840 meters height to the mountain station, next to the Erfurter Hütte and berggasthof Rofan.
Lifts

Slopes

4 km
8 km
2 km
Total 14 km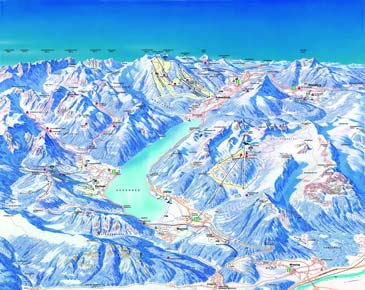 Summer Vacation Maurach am Achensee

Contact
6212 Maurach
Telephone: +43 (0)5243 5292
Snow Telephone: +43 (0)5243 5292
Email: info@rofanseilbahn.at
Internet: http://www.rofanseilbahn.at
Nearby ski resorts

Astenberg Wiesing

Christlum Achenkirch

Karwendelbahn Pertisau

Rofanlifte - Steinberg