Kössen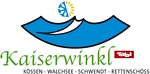 700 - 1.800 meters
Vacation in Kössen
Kössen a perfect hiking and climbing area.
In the middle of the Kaiserwinkl and surrounded by a perfect hiking and climbing area, lies the beautiful town Kössen.
An idyllic and enchanted landscape. Mountains for emperors, the summer for kings, (small) prices for 'regular' tourists.
Everyone can come here on holiday. Experience the WOW feeling!
Mountain Sports
Kössen is a real mountaineering village.
Many beautifully landscaped trails (more than 200 kilometer), but also winterhiking and Themewalks.
Also a great area for mountain biking, and paragliding is offered on site.
Moreover, the landscape around the village is dominated by the Unterberghorn, which rather steep rises to a height of 1,700 meters.
A popular mountain for hiking, on foot or by cable car storm the mountain.
Water Sports
The beautiful forrest swimmingpool in Kössen offers much room, swimming pools with slides, water mushrooms, spray pond, play stream and much more.
Would you like to surf, water ski or even fish, the Walchsee is not far.
Hochschanz Kalvarienberg.
By the central location of Kössen, the village is an ideal base for excursions in the area.
One of these possibilities is the nature trail Hochschanz Kalvarienberg. This little learning is certainly advisable.
Kössen is a small village, but it has the plenty of facilities to offer, including a bakery and a supermarket.
Winter sports
Kössen
Tourist information office
Postweg 6 6345 Kössen
Telephone: +43 (0)50110010
Email: info@kaiserwinkl.com
Internet: http://www.kaiserwinkl.com
Surrounding Villages

Oberwössen / Unterwössen

Schleching

Schwendt

Walchsee