Schwendt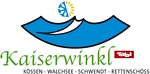 697 meters
Vacation in Schwendt
The beautiful Kaiser mountains with the Zahmer Kaiser.
Where Bavaria and Austria meet, near Kufstein, are the beautiful Kaiser mountains with the Zahmer Kaiser and the Wilden Kaiser.
Here lies the pretty village Schwendt.
Easy to reach, and a typical vacation paradise.
Because the small village Schwendt, guarantees a pleasant holiday.
Mountain Sports
Around Schwendt is an area that is ideal for various mountain sports.
Especially hikers and mountain bikers will find enormous possibilities in this region.
Water Sports
For water sports you will have to leave Schwendt, for example to the forrest swimmingpool in Kössen, or to the Walchsee where more appealing water sports are offered.
Kids Adventure Day.
The unique childrens programm in the region Kaiserwinkl.
Kids Adventure Day, an adventure program for children from 10 to 15 years.
The Pirates are loose, for children from 4 to 10 years. Or the stories and myths from the Kaiserwinkl, for children and parents.
Incidentally, around Schwendt the biggest attraction, is the untouched nature.
There is a supermarket in Schwendt, and several restaurants.
Winter sports
Zahmer Kaiser
Tourist information office
Postweg 6 6345 Kössen
Telephone: +43 (0)50110010
Email: info@kaiserwinkl.com
Internet: http://www.kaiserwinkl.com
Surrounding Villages

Erpfendorf/a>

Kössen/a>

Reith im Winkl"/> Reith im Winkl/a>

Walchsee