Rettenschöss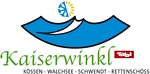 668 - 1.500 meters
Vacation in Rettenschöss
Rettenschöss lies at 680 meter.
Rettenschöss, the dream holiday in the Kaiserwinkl.
Rettenschöss is the first holiday village in the Kaiserwinkl is the beautiful Rettenschöss.
The village lies at 680 meter. Nature lovers are in their element here, since the region and the village offer an untouched landscape and clean air.
Mountain Sports
You can hike very pleasant near Rettenschöss.
Both in summer and in winter there are several hikes possible. For the mountain bikers who want to explore the area, this village offers the trails and routes.
Other mountain sports are offered nearby.
Water Sports
For real water Sports, you will need to leave Rettenschöss.
For example to the nearby Walchsee, where various water sports like water skiing, windsurfing, rowing and of course fishing, are offered.
Kids Adventure Day
There is much to see in this region, and many activities.
For example, for children in the Kids Adventure Day. An adventure program for children from 10 to 15 years.
There are also several other sights and attractions.
Although there is a supermarket in Rettenschöss, and four restaurants, you can not really go shopping here.
Winter sports
Zahmer Kaiser
Tourist information office
Postweg 6 6345 Kössen
Telephone: +43 (0)50110010
Email: info@kaiserwinkl.com
Internet: http://www.kaiserwinkl.com
Surrounding Villages

Ebbs

Erl

Niederndorf

Walchsee