St. Corona


800 - 1.334m
Ski Resort St. Corona am Wechsel
St. Corona am Wechsel with more snow, more hospitality.
The winter seems more special than usual. More snow, more hospitality, more skiing on beautiful slopes.
At the foot of the Kampstein lies the charming and cozy ski village of St. Corona am Wechsel. Here you can enjoy after a day on the slopes.
Modern lifts take you quickly and comfortably from the at 850 meters altitude valley station to the approximately 30-acre ski area.
A separate children's lift ensures plenty of snow fun for the little ones.
At the mountain station of the chairlift Kapstein you can get easily into the cross-country trail to the Wechsel-Semmering Panoramaloipe, with a total length of about 100 km.
Lifts

Slopes

7 km
10 km
k.A.
Total 17 km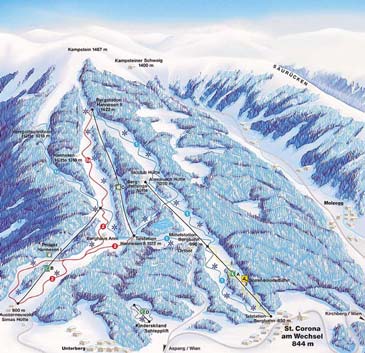 Summer Vacation St. Corona am Wechsel
Contact
Nr. 81 2880 St. Corona am Wechsel
Telephone: +43 (0)2641 2383
Snow Telephone: +43 (0)2641 2383
Email: info@corona.at
Internet: http://www.corona.at
Nearby ski resorts

Aichelberglifte Karlstift

Arralifte Harmanschlag

Schidorf Kirchbach

Schilift Ottenschlag / Trausmühle