Bad Endorf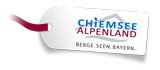 Bad Endorf: 525 - 600 meters
Vacation in Bad Endorf
Welcome to Bad Endorf
Bad Endorf is a cultural village, that makes arts and culture accessible to all. A good example is the now 210 years old and famous Endorfer religiösen Volksschauspiele.

Mountain Sports
Mountaineering around one of the most beautiful lakes in Germany, with numerous hiking trails and challenging trails for mountain biking. A beautiful area for Nordic Walking.

Water Sports
The lake is the center within the region for water sports, the highlights are the Fraueninsel and Herreninsel, which is certainly worth exploring. With or without their own sailboat.

Recommendation
Schloss Herrenchiemsee. The biggest attraction in the Chiemsee Alpenland, is the, by the Bavarian King Ludwig II, built castle Herrenchiemsee on an island in the lake.

Tourist information office
Bahnhofstraße 2, 83093 Bad Endorf
Telephone: +49 (0)8053 300850
Email: info@chiemsee-alpenland.de
Internet: http://www.chiemsee-alpenland.de
Surrounding Villages

Chieming

Eggstätt

Flintsbach

Frasdorf
style="display:block"
data-ad-format="autorelaxed"
data-ad-client="ca-pub-2812489612520478"
data-ad-slot="9466819972">