Breitbrunn am Chiemsee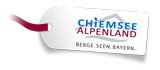 Breitbrunn am Chiemsee: 530 meters
Vacation in Breitbrunn am Chiemsee
Welcome to Breitbrunn am Chiemsee
Breitbrunn am Chiemsee, surrounded by meadows and forests, lies the lovely village in the lake landscape of the Chiemgau mountains. Directly to the so-called Inselsee, with its picturesque bays and near the Herren- and Fraueninsel.

Mountain Sports
Mountaineering around one of the most beautiful lakes in Germany, with numerous hiking trails and challenging trails for mountain biking. A beautiful area for Nordic Walking.

Water Sports
The lake is the center within the region for water sports, the highlights are the Fraueninsel and Herreninsel, which is certainly worth exploring. With or without their own sailboat.

Recommendation
Schloss Herrenchiemsee. The biggest attraction in the Chiemsee Alpenland, is the, by the Bavarian King Ludwig II, built castle Herrenchiemsee on an island in the lake.

Accommodations Breitbrunn am Chiemsee


Tourist information office
Gollenshausener Straße 1 83254 Breitbrunn am Chiemsee
Telephone: +49 (0)8054 234
Email: info@chiemsee-alpenland.de
Internet: http://www.chiemsee-alpenland.de
Surrounding Villages

Chieming

Eggstätt

Flintsbach

Frasdorf
style="display:block"
data-ad-format="autorelaxed"
data-ad-client="ca-pub-2812489612520478"
data-ad-slot="9466819972">