Grassau im Chiemgau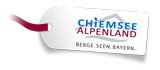 Grassau im Chiemgau: 540 - 1.587 meters
Vacation in Grassau im Chiemgau
Welcome to Grassau im Chiemgau
Grassau im Chiemgau, an ideal location and large recreational offers. A village where you can spend wonderful holidays equipped in an environment that you will not often encounter.

Mountain Sports
Mountaineering around one of the most beautiful lakes in Germany, with numerous hiking trails and challenging trails for mountain biking. A beautiful area for Nordic Walking.

Water Sports
The lake is the center within the region for water sports, the highlights are the Fraueninsel and Herreninsel, which is certainly worth exploring. With or without their own sailboat.

Recommendation
To the north lies Kendlmühlfilze nature resort, a natural jewel. Also worth seeing is the museum Salz & Moor - Klaushäusl.

Accommodations Grassau im Chiemgau


Tourist information office
Marktstraße 1 83224 Grassau im Chiemgau
Telephone: +49 (0)8641 40080
Email: info@chiemsee-alpenland.de
Internet: http://www.chiemsee-alpenland.de
Surrounding Villages

Amerang in Chiemgau

Aschau im Chiemgau

Bad Aibling

Bad Endorf
style="display:block"
data-ad-format="autorelaxed"
data-ad-client="ca-pub-2812489612520478"
data-ad-slot="9466819972">