Seebruck am Chiemsee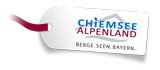 Seebruck am Chiemsee: 518 - 537 meters
Vacation in Seebruck am Chiemsee
Welcome to Seebruck am Chiemsee
Seebruck am Chiemsee is located on the northern shore of the beautiful lake in Bavaria near the nature reserve Seeoner Seen. A wonderful area for a well deserved summer holiday.

Mountain Sports
Mountaineering around one of the most beautiful lakes in Germany, with numerous hiking trails and challenging trails for mountain biking. A beautiful area for Nordic Walking.

Water Sports
Wellness for body and soul while you enjoy on or at the lake. This is water sports in a quiet area, with the prime swimming spot in the Baierbach.

Recommendation
In Klostersee lies the 1000 years old Benedictine monastery Seeon, culture and educational center with a varied range of culture and all year round open.

Accommodations Seebruck am Chiemsee


Tourist information office
Am Anger 1 83358 Seebruck
Telephone: +49 (0)700 73327825
Email: info@chiemsee-alpenland.de
Internet: http://www.chiemsee-alpenland.de
Surrounding Villages

Amerang in Chiemgau

Grabenstätt

Grassau im Chiemgau

Gstadt am Chiemsee
style="display:block"
data-ad-format="autorelaxed"
data-ad-client="ca-pub-2812489612520478"
data-ad-slot="9466819972">