Bad Hall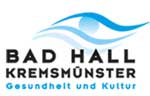 380 meters
Vacation in Bad Hall
Bad Hall is an oasis of health.
Bad Hall is an oasis of health, and offers a full range of health and vitality, as well as a number of cultural highlights.
Remarkably is the surrounding landscape, which is very suitable for soft sports such as hiking.
Mountain Sports
The region is ideally suited for soft outdoor sports, such as cycling and walking.
All hiking and biking trails are well marked, and the bike paths are provided with additional markings that indicate the degree of difficulty.
Water Sports
In Pfarrkirchen you can can enjoy on hot summer days the beautiful outdoor swimming pool, with various facilities.
Eurothermen Resort.
The Eurothermen Resort Bad Hall offers a combination of traditional spa with modern applications, ranging from various baths to physiotherapy.
Also worth seeing are the old station, the Brunnenweibchen, the Lucaskirche, and the former Kurhaus.
Winter sports Upper Austria
Tourist information office
Kurpromenade 1 4540 Bad Hall
Telephone: +43 (0)7258 72000
Email: geisberger@badhall.at
Internet: http://www.badhall.at
Surrounding Villages

Adlwang
Kremsmünster
Pfarrkirchen bei Bad Hall
Waldneukirchen
style="display:block"
data-ad-format="autorelaxed"
data-ad-client="ca-pub-2812489612520478"
data-ad-slot="9466819972">